Till 31 December 2020, we'll be offering you, online Health & Safety, HR and Business Compliance training courses and HR starter pack at a heavily discounted rate to support small businesses with their requirements, at a fraction of the usual cost.
ONLINE COURSES
You will get an easy-to-use video-based eLearning platform and extensive library of business required courses.
With over 100 high-quality eLearning courses, we cover the following sectors: Care, Education, Manufacture, Safeguarding, Office, Construction, Hospitality, Retail and Food Safety.
Price £15.00 + VAT (normally £25.00) per course per person.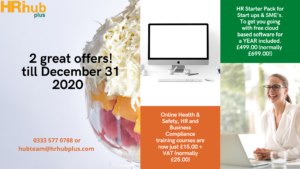 HR STARTER PACK
Do not risk copying generic HR documents – the result will not always be what you bargained for! Our HR Starter Pack consists of the following:
Standard Employment Offer Letter and Contract bespoke to your business
Employee Handbook bespoke to your business
15 Core HR business policies bespoke to your business
Employee Checklist
Free Cloud based intuitive software for a year valued at

£227.00

per annum*
Price £499.00 + VAT (normally £699.00)
*For a maximum of 20 employees.
Contact us today to take advantage of this limited time OFFER on 0333 577 0788 or hubteam@hrhubplus.com